About the LECOM Suncoast Classic
The LECOM Suncoast Classic
The LECOM Suncoast Classic, the only Korn Ferry Tour event in Florida, made its debut on the annual schedule in 2019. The LECOM Suncoast Classic is contested at Lakewood National Golf Club in Lakewood Ranch, Florida, and will be held the week of April 18-21, 2024, with 156 players competing for a $1,000,000 purse. The tournament has raised over $750,000 for local non-profits since its debut.
Lake Erie College of Osteopathic Medicine
In 2023, the Lake Erie College of Osteopathic Medicine (LECOM) celebrated its 30th anniversary. Founded in 1992, the Lake Erie College of Osteopathic Medicine (LECOM) has grown to become the largest medical school in the country. Enrollment in the College of Osteopathic Medicine, School of Pharmacy, School of Dental Medicine, School of Podiatric Medicine, School of Health Services Administration and Graduate School of Biomedical Sciences has surpassed 4,400 students at campuses in Erie and Greensburg, Pa., Bradenton, Fla., and Elmira, N.Y. LECOM consistently graduates more primary care physicians than any other U.S. medical college while maintaining one of the lowest tuitions of any private medical school in the country. Additionally, the LECOM Student Scholarship Fund awards over $4 Million annually to qualifying students. The college is the core of one of the nation's only osteopathic academic health centers, LECOM Health, a highly innovative, multifaceted health care and education system. Today over 16,000 LECOM alumni are providing health care to patients across the U.S.
Korn Ferry Tour
Founded (1990), owned and operated by the PGA TOUR, the Korn Ferry Tour identifies and develops golf's next stars, preparing them to compete and win on the game's biggest stage. The Korn Ferry Tour, which has served as a path to the PGA TOUR since its inception, will award 30 PGA TOUR cards based off its points list in 2024, with the No. 1 player earning exemptions into the following year's PLAYERS Championship and U.S. Open. With more than 600 PGA TOUR titles, 28 major championships and six FedExCup champions, Korn Ferry Tour alumni make up 88 percent of the PGA TOUR's current membership. To learn more about the PGA TOUR, the Korn Ferry Tour and to follow the season-long quest for PGA TOUR cards, visit PGATOUR.COM or follow the Korn Ferry Tour on social media.
Korn Ferry
Korn Ferry is a global organizational consulting firm. We work with clients to design their organizational structures, roles and responsibilities. We help them hire the right people and advise them on how to reward, develop and motivate their workforce. And, we help professionals navigate and advance their careers.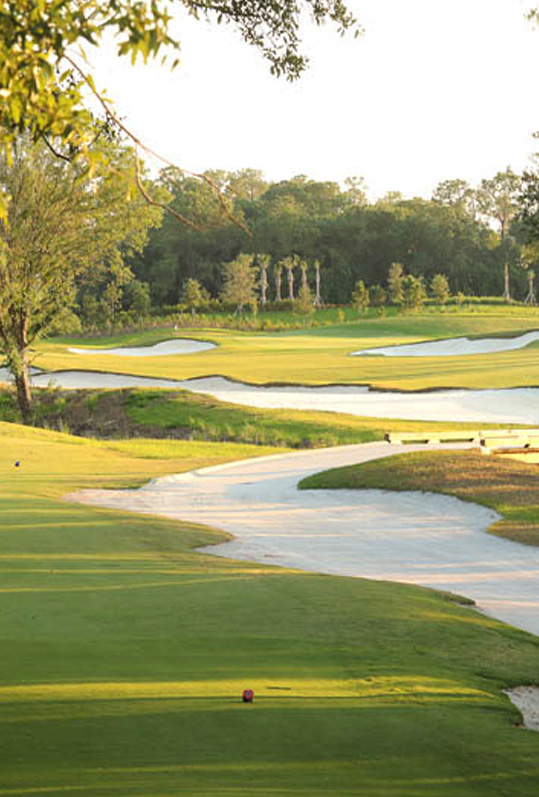 Lakewood National Golf Club
Welcome to Lakewood National Golf Club, an Arnold Palmer designed championship golf course, bundled with a new masterpiece community in Lakewood Ranch, Florida. Here, Residents enjoy a luxury lifestyle with a membership to the 36-hole course, inspired by agrarian landscapes, natural rolling terrain, and strategic concepts rooted in the Golden Age of golf course architecture. Other resort-style amenities include a grand clubhouse (construction underway), state-of-the-art fitness center, lighted clay tennis courts, beach entry lagoon pool, casual poolside dining, full-service spa, and so much more. As a Member, you even have full-time, onsite golf, fitness and racquet sports professionals to work with you on your sport and fitness goals. So come enjoy one of the best golf course communities in all of Florida!

Lakewood National is an intriguing golf course with a beautiful, natural feeling. The architecture embodies the spirit and tradition of America's classic golf courses while exhibiting a contemporary interpretation to their enduring standard.

The course takes you on a journey over broad rolls, long ridges, unexpected dips, over and alongside broad ponds and next to delicate wetland preserves to offer an exhilarating experience for everyone to enjoy.

The beauty, strategy, recovery options, and shot values challenge your intellect and allow you to discover and unlock the best ways to navigate the course.